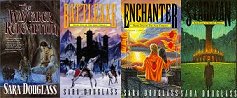 Battle Axe - Book 1 of the Axis Trilogy - Rich and exciting and Axis is really kewl and you get to learn of his heritage along with him (no it isn't as corny as I'm making it seem) and some VERY sad things happen so BE WARNED! None the less I would read it just to find out what I am going on about. Or not.
Enchanter - Book 2 of the Axis Trilogy - Azhure is a very interesting character though some aspects about her are predictable as are other sections and Sara has a way of making a character that you used to like so horrible that you hate them then twists things around so that you are really sad when something bad happens to them - BE WARNED (I say that a lot don't I?)
Starman - Book 3 of the Axis Trilogy - A good ending though you knew it was gonna happen from the beginning but still you HAVE to read it. Don't hate DragonStar too much though he is important in the next series (I told you about the like one second then hate the next.)

Sinner - Book 1 of the Wayfarer Redemption - I warned you about DragonStar - I felt sorry for him too. Old characters come back to haunt and the toy whilst others just come in and out of the story (you like StarDrifter now don't you.) Nothing really that I can say but it continues of from the last trilogy and knowledge of the last is necessary otherwise it is really confusing.
Pilgrim - Book 2 of the Wayfarer Redemption - You get some more love hate relationships going on with the characters though the Demon idea and the *** ** *** ***** (come on guess what it says) it is just the middle disruptive book in the series and some important events happen that ARE necessary and a really gross bit at the end (and I thought the Gladiator thing was bad enough!)
Crusader - Book 3 of the Wayfarer Redemption - It is really sad as so many characters die then one disappears and that is terrible too as I really liked him now (It was a love hate love relationship again). And a bit of justice is served to WolfStar (my opinion of him NEVER changed throughout the entire series). A great ending to an intriguing series.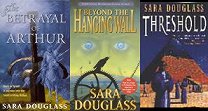 Threshold - Read it. Read it. Read it. It is a little slow going at first and the whole hate then love the character is strewn in for good measure (it is annoying but good the way she doesn't that isn't it?) I like the subtle hints that the pyramid still exists today and is causing some debate over how it was made (she got you didn't she.) I loved it and couldn't put it down, plus I think frogs are kewl.
Beyond the Hanging Wall - Short little story - predictable and the Manterous is heaps kewl though she throws in a little upheaval in the end for some reason - be prepared for ANYTHING when you read Douglass's work and you won't be TOO surprised. Okay, it is about a young physician, an imprisoned prince, a marsh girl and an evil King - need I say anymore?
The Betrayal of Arthur - So many facts and some many Arthurian ideas played with and described - if you are an Arthurian fan it is a must read because it tells you so many things and doesn't just recount the story. It is a non-fiction but written inn such a way that it isn't as boring as some of those other "facts about Arthur" books are.

The Nameless Day - Crucible Book 1 - Daring piece of work about demons and the priests who stop the demons. For 30 years no one has been there to stop the demons and Tom must find the casket in order to stop the plague upon man kind. The Angel's in the heavens and the Demons on earth fight over Tom who is the key to either's victory.
The Wounded Hawk - Crucible Book 2 - I'm warning you now, it is infuriatingly unputdown able and your perceptions of Angel's and demons will be changed forever - if you are a devout religious person don't even think about picking up this book you'll only get upset and angry all the rest enjoy what she has to say it is GOOD.
The Crippled Angel - Crucible Book 3 - A great conclusion to the series with some VERY unexpected twists and turns. We finally learn the true nature of the Angels and "Demons" with some really good twists in the middle. It is maybe a little slow in the beginning but utterly unput down able at the end and it concludes so beautifully. Simply wonderful - though for religious people I'm sending out a warning you might find it blasphemous.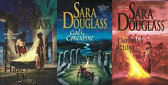 Hade's Daughter - Troy Game Book 1 - Details what happened after the legendary defeat of the Minatour, Asterion and the fall of the Ancient Greek Gods and the mysterious "Troy Game". A group of individuals are brought together by the Troy Game, Genvissa, the Mistress of the Labyrinth, Brutus the heir to the Trojan throne, Cornellia a young noble woman who is taken by Brutus, Coel and Loth two men from what is to become London. They are all wrapped up in the Troy Game that well bring them together again and again until at last it is either destroyed or taken by Asterion. I really liked this book though I found it a little hard to like some of the characters.
God's Concubine - Troy Game Book 2 - This time the book is set in around 1050-1066 in England and Nomandy, Genvissa is again beautiful and Cornelia in the midst of things she cannot understand nor does she even have memories of. But only she can move the bands of Kingship to safe locations away from teh hands of Brutus incarnate and the ever evil Asterion who only wants to control the power of the game. Most of the characters return and some new characters join the bind that revolves around the Troy Game and it's growth. I was totally addicted and could barely put it down - Sara Douglass's best series yet.
Darkwitch Rising - Troy Game Book 3 - Set back in London with an exiled Prince, a whore, a dangerous man and Noah, an innocent. When they each learn of who they are and the role they need to play things start turning in different directions. Now there is a different, darker instrument than Asterion ever was, the game itself. Twists and turns common to all Douglass books - one minute you hate a character the next you love them. But as far as interest goes - it has my complete attention - I love the twists and turns and inuendos all of the place, it's a maze, a labyrinth ;)
Related Authors